THE QUOTABLE FILM CRITIC Movie Reviews and Film Criticism Volume One: 2000 - 2010
A comical yet cut-throat collection of cinematic criticism covering actors, directors, producers, screenwriters and films
...
Hollywood blockbusters, rom-coms, chick flicks, horror, musicals, children's, independent, art-house, animation.
Over 2000 quotes cover ...
Actors
(from Jessica Alba to Renee Zellweger),
Directors & Producers
(from Woody Allen to David Zucker) and
over 550
Film Titles
(from
Avatar
to
Zoolander
).
BOOK DETAILS

Cover: Paperback
Pages: 200
Quotes: 2000+
Size: 17.0 x 24.40 cm
ISBN: 1907338014 / 978-1-907-338-01-4
Published: Sept 1, 2010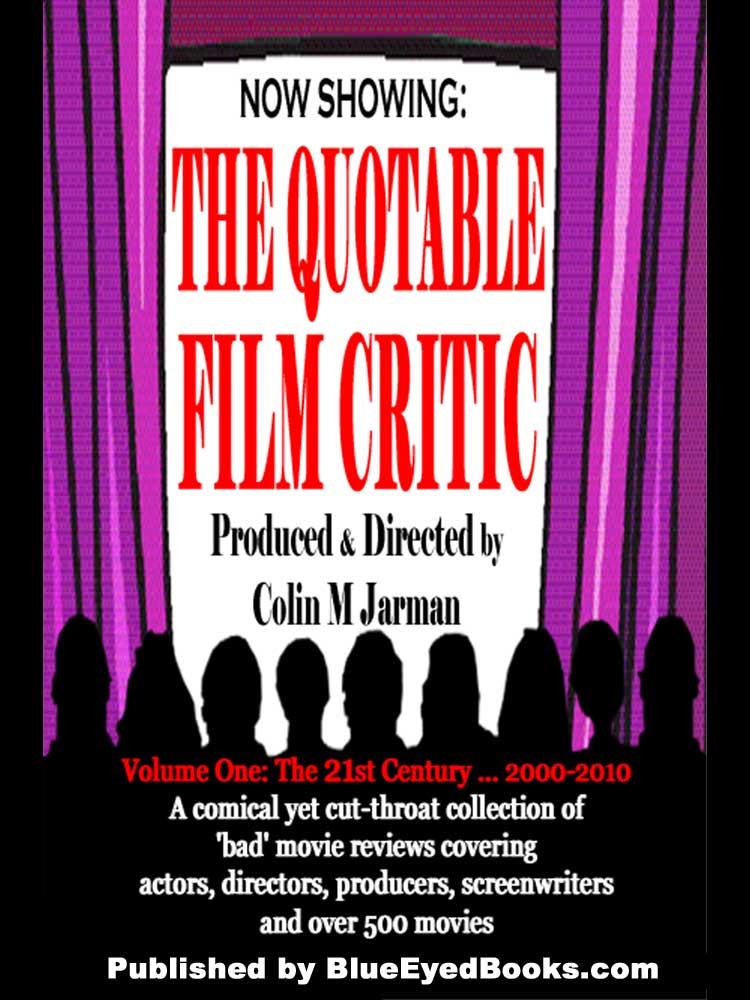 A to Z of Bad Movie Reviews
from The Quotable Film Critic
Vol One: 2000-2010

Jennifer ANISTON
Along Came Polly
(2004) -
"Basically, a big-screen version of Dharma & Greg, but starring Jennifer Aniston - yes, it is that sickly."
Hadley Freeman in The Guardian
Ed BURNS
A Sound Of Thunder
(2005) -
"Edward Burns is the kind of actor you cast as the hero when a piece of wood is unavailable."
Jason Anderson in The Toronto Globe and Mail
CLOVERFIELD
(2008)
"Combines unpleasantness and stupidity to a degree that would be difficult to match unless you were stuck in bed with a case of the shingles while being forced to watch
The Ghost Whisperer
."
Kyle Smith in The New York Post
Robert DE NIRO
Analyze That
(2002) -
"If De Niro wants to spend the twilight of his career as the McDonald's of master thespians, we can't stop him."
J.R. Perry in The Tyler Morning Telegraph
ERAGON
(2006)
"Like a super-condensed version of Lord of the Rings as made for the Disney Channel. The baffling story sometimes makes you think the Comedy Channel might have lent a hand as well."
Steve Rhodes on InternetReviews.com
Colin FIRTH
Dorian Gray
(2009) -
"Firth - all dodgy 'tache and frantic eyebrows - has got the sexual allure of a man who runs a swingers' club in Surbiton."
Robbie Collin in The News of the World
The GOLDEN Compass
(2007)
"It is as packed with incident and excitement as a trip to Marks and Spencer's sock department."
Olly Richards in Empire magazine
HARRY Potter and The Prisoner of Azkaban
(2004)
"If my moviegoing experience was magical in any way, it was only in that I once or twice nodded off for a spell."
Rick Kisonak on FilmThreat.com
IRON Man
(2008)
"Though he's been given A-list treatment ... Iron Man can't escape being a little - dare I say it? - tinny."
Frank Swietek on OneGuysOpinion.com
Samuel L. JACKSON
Twisted
(2004) -
"Jackson doesn't bother to read the scripts anymore. He just checks to make sure he has one loud scene where he gets to shout, then cashes the paycheck."
Dawn Taylor in The Portland Tribune
Nicole KIDMAN
Birthday Girl
(2001) -
"Nicole 'does' sexy with all the erotic charge with which one 'does' the washing up. I'd rather gargle battery acid than have to watch Birthday Girl again."
Sukhdev Sandhu in The Daily Telegraph

LOVE Actually
(2003)
"There's so much plot being thrown at us in Love Actually that there's little room for genuine emotion; the film is as superficial as a Jay Leno monologue."
Robert W. Butler in The Kansas City Star
MAMMA MIA!
(2008)
"The film is indeed absolute cack: appallingly written, witlessly directed and sung as if by mice being tortured. It makes
Teletubbies
look like
The Iliad
in comparison."
Stephen Pollard in The Spectator
Nick NOLTE
The Good Thief
(2002) -
"Of the actors working today, only Nolte looks as though he died five years ago and nobody bothered to tell him, and he runs (or staggers) with the tatty grace of the walking dead."
Marc Savlov in The Austin Chronicle
OCEAN'S Eleven
(2001)
"
Ocean's Eleven
is
The Italian Job
without the cars,
The Lavender Hill Mob
without the Eiffel Tower,
The Thomas Crown Affair
without either the chess or the mid-life sex."
Matthew Bond in The Mail on Sunday (2002)
PIRATES of the Caribbean: At World's End
(2007)
"If I have to watch one more pirate shriek in horror at a giant yet imaginary tentacle waving in his face, I'll drive a fork into my wooden leg."
Donald Munro in The Fresno Bee
Dennis QUAID
Flight Of The Phoenix
(2004) -
"His acting is limited to turning the corners of his mouth down, like someone tasting tea made with urine."
Ben Davis in The Morning Star
Julia ROBERTS
Mona Lisa Smile
(2003) -
"Roberts so overwhelms the movie with so much wisenheimer Brockovich attitude that you want to haul her before the Academic Senate and censure her for anachronism."
Carrie Rickey in The Philadelphia Inquirer
Sylvester STALLONE
Get Carter
(2000) -
"Stallone is so artificial, tanned and leathery you could replace his mouth with a zipper and sell him as a pocketbook."
Desson Howe in The Washington Post
TRANSFORMERS
(2007)
"It's Wrestlemania meets Scrap Heap Challenge. And my goodness it's boring."
Wendy Ide in The Times
ULTRAVIOLET
(2006)
"Ultrastupid, ultra-incoherent, ultrasilly - and way, way ultraboring."
Lou Lumenick in The New York Post
Noa VARDALOS
Connie and Carla
(2004) -
"The phrase 'written by Nia Vardalos' should send any self-respecting moviegoer screaming into the night, pursued by the comedienne's frizzy-haired brand of hysteria … One suspects Vardalos's movies aren't written as much as up-chucked, the result of all-night binges on SnackWells and Oxygen network reruns."
David Ng in The Village Voice

Mark WAHLBERG
The Truth About Charlie
(2003) -
"Wahlberg, playing the Cary Grant role, displays the cosmopolitan charm of a wombat."
Edward Porter in The Sunday Times
X-MEN 3: The Last Stand
(2006)
"Watching the actors is like watching Elton John try to make out with Anne Heche. They go through the motions in a totally disingenuous display, except Wolverine doesn't break out into an impromptu Rocket Man to ease the awkwardness."
Mike Ward on Richmond.com
YOU Got Served
(2004)
"A street-dance film that's lively and silly and about as 'street' as a Britney Spears' video."
Carla Meyer in The San Francisco Chronicle
Renee ZELLWEGER
Cold Mountain
(2003) -
"Zellweger does a job of overacting that might have gotten rejected by The Beverly Hillbillies."
David Sterritt in The Christian Science Monitor