THE QUOTABLE FRED ASTAIRE
FRED ASTAIRE QUOTES BOOK
2000 Biographical Quotations
by and about the world's greatest dancer:
FRED ASTAIRE
Dance Legend, Dancing Icon

Ask George Balanchine. Ask Mikhail Baryshnikov. Ask James Cagney. Ask Bob Fosse. Ask Rita Hayworth. Ask Michael Jackson. Ask Gene Kelly. Ask Rudolf Nureyev. Ask Donald O'Connor. Ask any man or woman in the street. Most, if not all, would agree that Fred Astaire (born 1899 in Omaha. Nebraska) was the greatest dancer the world has ever seen.
"He is a male butterfly without the wings - the same kind of grace of a very young horse, so angular."
Mikhail Baryshnikov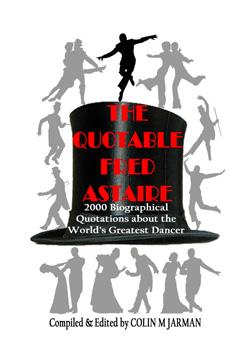 BOOK DETAILS


Cover

: Paperback

Pages

: 224

Quotes

: 2000

Size

: 16.82 x 26 cm
Name another dancer, from any era, whose dance career - on stage, film and TV - could sustain such a book as this. The astonishing fact is not that there are 2000 specially chosen quotations by and about Fred, but that so many of these quotributes come from peers and those performers that were inspired by him. That is the true test of the epithet greatest.
"Fred Astaire is the Carioca, the Continental, the very Piccolino of romance."
Frederick L. Collins in Liberty magazine (1936)
As well as tributes from the dance world as a whole, Fred has received glowing references from U.S. presidents, Prime Ministers, Knights of the Realm, Nobel prize winners, Pulitzer prize winners, Oscar winners, Tony winners, Grammy winners ... even Heisman trophy winners. Such is the breadth and depth of the highest regard that Fred Astaire is forever held.
"Fred was, in every sense of the word, a superstar. He was the ultimate dancer - the dancer who made it all look so easy."
Ronald Reagan (1987)
As the title suggests, the focus is on the dancing aspect of Fred Astaire. The emphasis of the 2000 quotations is on Fred's dancing rather than his singing or acting abilities or on his private life.
"You see, as far as the man's personality goes, there's no one who can touch Fred Astaire. He's unique."
Donald O'Connor
The Quotable Fred Astaire / Dancing On Astaire
follows Fred's early stage career - as a teenager - with sister Adele; runs through all his movie musicals with partners such as Ginger Rogers, Cyd Charisse and Ann Miller; finishing with his award-winning performances on TV (in his late 60s).
"Fred Astaire is unquestionably the best-known and best-paid dancer in the world today. More people have seen and applauded his exceptional, light-footed, light-hearted grace than ever heard the word Nijinsky."
Lincoln Barnett in Life magazine (1941)
"Youth is believing that someday you'll dance like Fred Astaire."
Jacqueline Friedrich
FRED ASTAIRE QUOTATIONS BOOK
The Quotable Fred Astaire [Dancing on Astaire]

A Definitive Collection of Quotes and Quotations by and about the World's Greatest Dancer - Fred Astaire ... including all his famous stage shows, his memorable film musicals and his unforgettable dance partners.
TO BUY
"An amazing collection of quotations on the one and only Fred Astaire. The title says it all 'Dancing on Astaire' as in the whole dance world, or so it seems, has their say on Mr Astaire. Not surprisingly given Fred's legend and standing - in Hollywood, Broadway and the West End - 99.9% of the biographical quotes about him are positive and deeply respectful of his talent, his demeanor and his unmatched class. The quality of the quotations collected here is highly impressive and the scope of the book is almost as jaw-dropping as one of Fred's dance routines - there is even a section on the infamous Dirt Devil adverts.
All in all a wonderful book full of great memories about a great dancer and a great man."
from Barnes and Noble
"A fitting tribute to a dance legend.
Dancing On Astaire is not your average biographical tribute to a celebrity. The author has cleverly compiled and combined a vast array of quotes and comments about Fred Astaire and turned them into a fitting tribute from those who knew him or those who worshipped the floor he danced on. I bought this one and the similar bio-quotable book (from Blue Eyed Books) about James Bond (License To Quote). As a lover of quotations both these books surpassed any expectations I had of them and will surely provide many hours of fun reading through them over and over."
from BookFinder4u.com