THE QUOTABLE DOCTOR WHO

2000 QUOTATIONS ABOUT THE WORLD'S FAVOURITE TIME LORD

THE DR WHO QUOTES BOOK from Series One...
From the First Doctor to the Eleventh.

"Doctor Who has never pretended to be hard science-fiction. At best, Doctor Who is a fairytale, with fairytale logic, about this wonderful man in this big blue box, who at the beginning of every story lands somewhere where there's a problem."
"Doctor Who is not a name, but a question to which we're still learning the answer."
On the show's global appeal
-
"Because it's the best idea ever invented in the history of the world!"
This deeply-researched and well-presented compendium covers all eleven TV incarnations of the Doctor since 1963 - both character and actor -
William Hartnell
,
Patrick Troughton
,
Jon Pertwee
,
Tom Baker
,
Peter Davison
,
Colin Baker
,
Sylvester McCoy
,
Paul McGann,
Christopher Eccleston
,
David Tennant
&
Matt Smith
, as well as other Film and TV Doctors:
Peter Cushing
&
William Hurndall
.
"It's the same show! And the story continues. I'm playing the same man William Hartnell was playing. I just have a slightly different wig."
David Tennant - 10th Doctor at ComicCon (2009)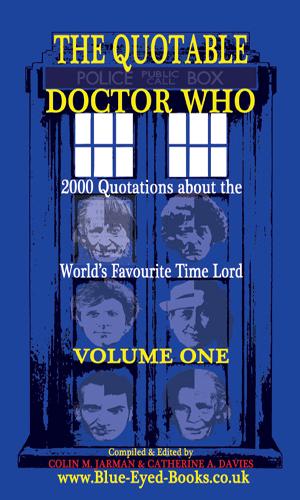 "The Quotable Doctor Who"
includes comments and quotes about all The Doctor's regular companions (from
Sarah Jane Smith
to
Rose Tyler
to
Amy Pond
) as well as 'one-off' companions plus
Brigadier Lethbridge-Stewart
and
UNIT
.
On The Doctors getting younger - "What is odd is that the companions have remained pretty much the same nubile, up-for-it age. They began as children out with a cranky magical uncle of a sort that was common in Edwardian children's books, but have now ended up with an intergalactic blind date."

There are also special sections on the
TARDIS
, the
Sonic Screwdriver
, Regeneration, Science Fiction, Behind the Sofa, Special Effects, Music, Fashion, Sex, Technobabble, Female Doctors, the three Doctor Who movies and the TV spin-offs such as
K-9 & Company
,
Torchwood
and
Sarah Jane Adventures
.
"
The TARDIS
... his time machine, the sci-fi nerd's version of a red convertible."
"The Sonic Screwdriver sounds like something Carrie & Samantha would drink in Sex and the City but in fact this nifty little gizmo was all that Doctor Who needed to defeat the Daleks, mend the TARDIS and help fit K-9 with a collar for his cyberfleas."

Further sections include comparing "Doctor Who" to "Star Trek", James Bond, Sherlock Holmes and other Film / TV shows and characters.
"Doctor Who named 'most successful SF series' by Guinness: Suck it Star Trek!"
THE QUOTABLE DOCTOR WHO is an unofficial publication
and has no association with the BBC TV show and characters.
Click on the bookstore links below for the best-known
**
online deal in your area.
UNITED STATES of AMERICA RRP = US $22.99

AMAZON.COM
- $10.79
Book Depository
- $16.33
CANADA RRP = CDN $22.99
AMAZON.CA
- $13.40
Book Depository
- $18.15
EUROPE RRP = €19.99

Book Depository
-
€
12.64
AUSTRALIA RRP = AUS $22.99

Book Depository
- $ 12.73
JAPAN RRP = Y2,000

AMAZON.CO.JP
- Y1,193
**Please note: latest online prices & discounts quoted above are beyond the control of Blue Eyed Books - and are reported in good faith but may be subject to change at any time.
Also note that The Book Depository website displays some different front covers to those on the Blue Eyed Books site but they will supply the right books and covers.

---
INDEPENDENT BOOK REVIEWS
"A great group of quotes spanning all the years of Doctor Who. It is an excellent book, not just relying on the Doctors or their companions, but anyone who worked on a Doctor Who set. Nothing is censored. There is no political correctness in this book. This is a wonderful look at what people were thinking and feeling at the time of each era, even when the show was in an off mode."

"Excellent book, but... don't be confused by the title, the book contains quotes and comments ABOUT the Doctor and the show, but NOT actual quotations from the show/scripts. That being said, the book is an excellent addition to the true Doctor Who aficionado's library. "

"C'est une chouette idée de sortir une série de livres de citations!"

["This is a great idea for a series of quotations books!"]

VOLUME ONE - BOOK DETAILS

Pages
: 250
Format
: Paperback
Size
: 17.00 cm x 24.40 cm
Quotes
: 2000
ISBN
: 9781907338151
RRP:
£14.99 / $22.99
/
€
19.99
Twitter
:
@QuotableDrWho
Blog
:
Who Said What About Dr Who