JAMES BOND: LICENCE TO QUOTE:
THE QUOTABLE DOUBLE-0 SEVEN
BUY "JAMES BOND - LICENCE TO QUOTE"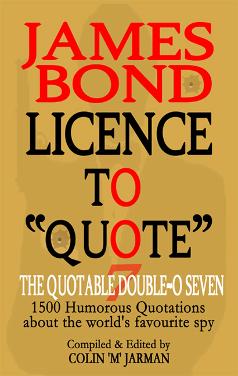 JAMES BOND: LICENCE TO QUOTE
FIRST EDITION BOOK REVIEWS


"I purchased this largely expecting a collection of "who said what in which film." Instead, the book is a well-researched, carefully organized compendium of not just lines from the 007 movies, but of critiques and pop-culture references from throughout the history of the series, touching on not only the plots, but actors (those assaying Bond in particular), heroines, villains, and more.
If you're a serious 007 fan - especially one in need of a quote or comment on the super secret agent and/or his world that hasn't already been read a hundredfold - this is the book to buy."
Poor Man's James Bond "PMJB" on Amazon.com (2010)

"A brand new book for the James Bond fan is on store shelves … Available now is James Bond: Licence To Quote: The Quotable Double-0 Seven, compiled and edited by Colin M. Jarman, containing more than 1,500 quotes about the world's most famous British spy … Licence To Quote is the first quotations book solely dedicated to the ever-expanding universe that surrounds James Bond."
Devin Zydel on CommanderBond.net
---
"Blue Eyed Books has collected 1500 hilarious and provocative quotable quotes on all things 007 ... Quotes are sorted by actor, film, the books, Bond's world, etc. A great read, one of the more entertaining Bond phenomenon books of the past ten years."
Matt Sherman on The James Bond List
---
---
James Bond hasn't been this much fun since Roger Moore hung up his eyebrows and ditched the safari suit for a clown outfit.
James Bond: License To Quote is chock-full of humor and laughs. There are so many fun quotations most of which I had never seen before. Where did they get them all from? Is there a James Bond Quote Bank the size of Fort Knox that stores all these gems?
Here are a couple of the 1500 ... so hard to choose which to share:

"James Bond is little different from comic book characters. 007's Aston-Martin is simply a Batmobile suitable for valet parking."

"Revenge is a dish best served with bullets, high explosives and giant rolling flameballs. In Quantum Of Solace, James Bond orders the revenge buffet, deluxe."

Totally brilliant. Read it and weep - with tears of joy. Even Oddjob would take his hat off - in deference - to the guys at Blue Eyed Books. Mission accomplished.
Michael Lee on BarnesAndNoble.com


---
"A great idea! Why has no one done it before? Funny quotes about all the main areas of James Bond and some surprising obscure themes like the Real James Bond and 007 compared to other fictional spies like Jason Bourne and Jack Bauer. Plus a very wide catchment of sources from Jerry Seinfeld to Gregory House MD. All in all a great book with hours of fun and interest. 007 out of 007!"
TheBookDude on BookFinder4U.com
---
No Mr Bond I expect you to Quote
"Hah! A fab book of quotes about James Bond. Seems to cover everything in such detail. If you have waded through any of the serious 007 reference books this humorous collection will be a witty and welcome change. License To Quote is great value for money and I am sure it'll be a hit with all Bond fans out there. "

JB-2010 on BookFinder4u.com
JAMES BOND:
LICENCE TO "QUOTE"
THE QUOTABLE
DOUBLE-0 SEVEN
First Edition (2010)

THE WORLD'S FAVOURITE UNDERCOVER AGENT - UNCOVERED
1500 humorous quotations about
Commander Sir James Bond

This volume uniquely focuses on humorous comments made about 007 rather than direct quotes from the Bond films or books.
Bond's life & legend, books & movies, enemies & lovers, cars & gadgets all come in for close inspection. 007 is as much a sitting target for defecation by the sardonic snipers in the press as an object of deification by the eulogistic empathists populating the fansites.
"Frankly I wish he'd just get back to the days when Bond head-butted Curt Jürgens in the face, blew up Donald Pleasence's volcano and went to bed with Barbara Bach."
Jeremy Clarkson in The Sunday Times
"James Bond is just Jeremy Clarkson with a better haircut and worse jokes."
Giles Coren in The Times
"Bond has no sense of humour, telling only one joke in all 14 books (in Goldfinger (1959) - and it isn't very funny)."
Anthony Horowitz in The Daily Telegraph
"Everyone in Bond is named after somebody Ian Fleming knew. Pussy Galore was probably his cleaning lady."
Sinclair Mackay, The Man with the Golden Touch
"I have friends who talk about the pleasures of the Bond fantasy. But what that really boils down to is a bald bad guy, a bird in a bikini and loud bangs in a foreign country."
Cosmo Landesman in The Times
"Indiana Jones, Arnie, Derek Flint et al owe a major debt to Bond, James Bond. Or perhaps Broccoli, Cubby Broccoli."
Michael Cooper on Alternative007.co.uk
MORE BOOK REVIEWS

"James Bond: License To Quote: The Quotable Double-0 Seven ... contains over 1500 quotations about James Bond and his world, though not actually from Bond himself in the films or the books. It was compiled and written by Colin M Jarman. You can learn more about the book by checking out its website or thru Twitter."
K1Bond007.com
---
"Brilliant title (can hear Connery saying it now 'Bond, James Bond -
License to Quote
') and a brilliant book covering the fun things said about Bond (films and books, girls and cars). Not seen a Bond book like it! A definite must for Bond fans like me.
I could write more but the best way to describe the book is to give a few examples of the quotations.
"James Bond was a suave intellectual who could slice through life's difficulties with the ruthless efficiency of Oddjob's hat."
William Grimes in The New York Times (1991)

"I wish he'd get back to the days when Bond head-butted Curt Jurgens in the face, blew up Donald Pleasence's volcano and went to bed with Barbara Bach."
Jeremy Clarkson in The Sunday Times (2009)

The only minor drawback is the lack of an index at the back but the book is well laid out with lots of clear chapters so an index is not really missed. Overall, it is a book that I shall read over and over and have already recommended it to friends and other Bond fans."
Mal D on ReviewCentre.com
---
"A surprisingly good biographical and extremely useful reference book on all things James Bond. This deeply researched volume of quotations about 007 is a joy to read over and over, as well as great fun to share with friends and other Bond fans. The content covers every aspect of the Bond legend - books, movies, actors, writers, accessories : all set out in neat self-contained sections. There is an amazing amount of material that I have never seen before so kudos to Mr Jarman for finding it and bringing it out into the open. I have not found another book like this that covers so many quotes about James Bond, so I can highly recommend it. Five stars."
EM Johnson on BarnesAndNoble.com
Pages
: 158
Quotes
: 1500+
ISBN
: 9781907338335
Size
: 6.14" x 9.21" / 15.6 x 23.4 cm
Pub Date
: June 2010
Twitter
:
@007Quotes
James Bond: License To Quote is not associated with Ian Fleming Publications or Gildrose Publications or Eon Productions or MGM / UA or Danjaq or Sony Pictures. No commercial connection or creative endorsement on their behalf should be inferred from the title or content of this book or any associated media projects.