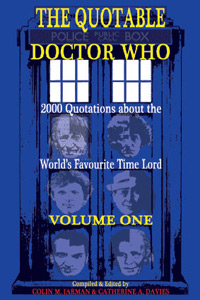 Description: A comprehensive collection of 2000 thematic quotations about the world's longest-running sci-fi television show Doctor Who and the time-travelling Time Lord himself, The Doctor and his Companions, his TARDIS, his Sonic Screwdriver, and more. Further sections include comparing "Doctor Who" to "Star Trek", James Bond, Sherlock Holmes and other Film / TV shows and characters.

Book Review: Don't be confused by the title, the book contains quotes and comments ABOUT the Doctor and the show, but NOT actual quotations from the show/scripts.
From the description: "The 2000 quotations are taken from cast members, production crew & guest stars plus contributions from fans, fanzines, dedicated websites, the world's press and a wide selection of diversely interesting sources."
That being said, the book is an excellent addition to the true Doctor Who aficionado's library. I look forward to future volumes with anticipation.

Pages: 250 - Format: Paperback - Size: 17.00 x 24.40 cm - ISBN: 9781907338151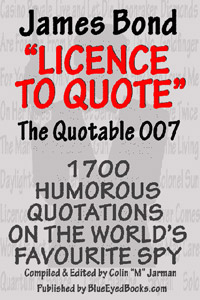 Description: 1700 humorous quotations about the world's favourite secret agent, his films, books, cars, gadgets, food and drinks, clothes, Bond Girls and other women, friends and enemies, influences and imitators, fans and critics ... plus the actors, producers, directors, screenwriters, musicians, singers, designers, stuntmen and Ian Fleming. From Casino Royale to Skyfall, and much more ...
LICENCE TO 'QUOTE'

is the first book of humorous quotations solely dedicated to the ever-expanding universe surrounding James Bond - 007.
This volume - of 1700 light-hearted quotes - uniquely focuses on humorous comments made about 007 rather than direct quotes from the Bond films or books.

First Edition Book Review: Blue Eyed Books has collected 1500 hilarious and provocative quotable quotes on all things 007. Quotes are sorted by actor, film, the books, Bond's world, etc. A great read, one of the more entertaining Bond books of the past ten years.


OLYMPIC WIT

800 Funny Olympic Quotes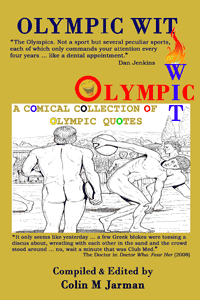 Description: A Comical Collection of Humorous Quotations about the Olympic Games - Modern and Ancient, Summer and Winter, the athletes, the host cities and stadium, opening and closing ceremonies, the Olympic sports, the Olympic Oath, the Olympic flame, the Olympic mascots, the IOC, the nations, the medals, the heroes and the cheats, the triumphs and the controversies.

To celebrate the Olympic Games returning to London, for the third time, in 2012, Olympic Wit delivers the swiftest, highest and strongest collection of comical quips and comments about the great event.

A comical collection of thoughts, observations and wisecracks on all areas of the Olympic Games:

from Ancient to Modern from Summer to Winter
from Harold Abrahams to Emil Zatopek from Archery to Yachting
from Athens 1896 to London 2012 from Afghanistan to Zimbabwe

To tie in with the forthcoming 2012 Olympic Games in London, this book covers all the fun stuff written and spoken about the lighter side to the Greatest Sports Show on Earth.

The diverse content covers all Modern Olympic Games (1896 - 2008) as well as Ancient Games history. It includes famous & infamous Olympians, Olympic Nations, Olympic sports and events, Olympic Fixtures (inc. Ceremonies, Mascots, Medals, Mottoes, Stadium, Torches, Villages, etc.) and Olympic Themes (inc. Age, Cheating, Clothing, Commercialism, Drugs, Food & Drink, Politics, Sex, TV, Weather, Winning & Losing, etc.) Also covered are Olympic-based Movies and TV shows, Special Olympics and even 'Fantasy' Olympics.
Pages: 138 - Format: Paperback - Size: 15.6 x 23.4 cm - ISBN: 9781907338168
NEW PUBLICATION: APRIL 2012
DESCRIPTION: 1500 funny poker quotes cover all aspects of poker - online, tournament, home games, friendly and the WSOP.
The Quotable Poker Player celebrates the fun-side of poker covering the funniest poker sayings and quotations from professional players, poker stars, poker legends, poker greats, poker celebrities, authors, humorists and journalists, as well as a choice selection from film & TV characters.
A Poker Media chapter covers humorous reviews & comments about Poker Books, Poker Movies & Poker TV Shows.
DESCRIPTION: A Definitive Collection of 2000 Quotes and Quotations by and about the World's Greatest Dancer - Fred Astaire ... including all his famous stage shows, his memorable film musicals and his unforgettable dance partners.

The Quotable Fred Astaire follows Fred's early stage career - as a teenager - with sister Adele; runs through all his movie musicals with partners such as Ginger Rogers, Cyd Charisse and Ann Miller; finishing with his award-winning performances on TV (in his late 60s).
As the title suggests, the focus of the quotations is on Fred's dancing rather than his singing or acting abilities or on his private life.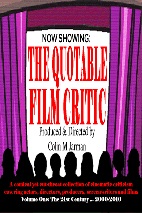 DESCRIPTION: Volume One: 2000 - 2010. A collection of 'bad' film reviews that make up the most cutting cinematic criticism in movie-making history - across four fun-packed volumes.

A comical yet cut-throat collection of cinematic criticism covering actors, directors, producers, screenwriters and films ... Hollywood blockbusters, rom-coms, chick flicks, horror, musicals, children's, independent, art-house, animation.

Over 2000 high quality quotes cover Actors (from Jessica Alba to Renee Zellweger), Directors & Producers (from Woody Allen to David Zucker) and over 550 film titles (from Avatar to Zoolander).

CELEBRITY "BITCH" QUOTES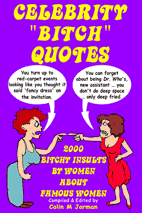 DESCRIPTION: This collection of 2000 cutting remarks celebrates both ends of the bitching spectrum … covers centuries of bitchcraft about historical female figureheads through to twenty-first century icons.

This dazzling diversity of victim is matched by the 'artillery' range of females actually doing the 'bitching' … from battle-hardened, battle axes of the tabloid press to normally soft-hearted, soft-spoken saintly celebrities themselves.
As well as individual celebrity females coming under attack from their own gender, this book also covers celebrity pairings and groups.
STRICTLY "QUOTE" DANCING - Vol 1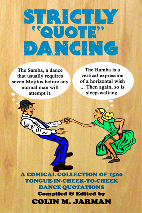 DESCRIPTION: As its title suggests, this book pays homage to the 21st century phenomenon known as Strictly Come Dancing (or Dancing With The Stars as the rest of the dance world knows it).

As well as including many names from these global TV shows, Strictly "Quote" Dancing expands the Ballroom dance world to allow Strictly… fans the chance to explore the social and celebrity dance scene outside of their TV.
Just as the Strictly… mantle has covered the globe like a Paso Doble cape, this book matches the international reach of social dance with a particular focus on the U.K. and U.S.A.

Strictly "Quote" Dancing celebrates in comic fashion the whole glitterball of glamour, glitz and gaucheness that has always pervaded the social dance world.

Vol One covers Strictly Come Dancing seasons 1 to 7.
THE QUOTABLE DANCER

- eBook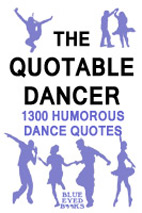 Description: This eBook contains 1300 humorous dance quotes from stage & big screen, as well as an extensive A-Z of general dance topics and an all-embracing card of dance styles from Classical Ballet to Street Dance.

The book also contains the fun things said by and about famous dancers such as: Fred Astaire, Ginger Rogers, Busby Berkeley, Martha Graham, Gene Kelly, Cyd Charisse, Bob Fosse, Nijinsky, John Travolta, Patrick Swayze, Michael Jackson, Michael Flatley, Savion Glover, even Mumbles the Penguin & Wall-E.